Discovering the Advantages: Why Investing in Real Estate Now is a Smart Move | The Rivlin Group
Posted by Alex Rivlin on Saturday, February 25, 2023 at 9:30 AM
By Alex Rivlin / February 25, 2023
Comment
"The wise young man or wage earner of today invests his money in real estate." - Andrew Carnegie.
Real estate investing is always a great strategy to increase your wealth. Yet given the status of the market right now, this is a particularly good moment to make a real estate investment. Let's look at why now is the perfect time to begin investing in real estate and how you can do so.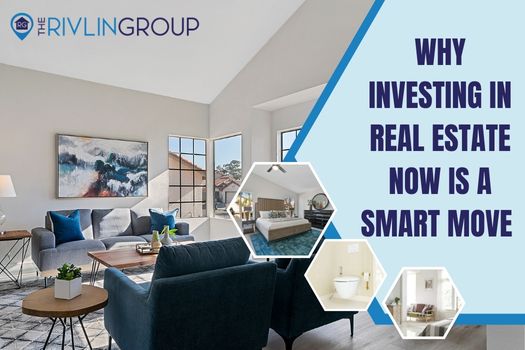 Low-Interest Rates
The fact that loan rates are so low is one of the key factors contributing to how ideal the current real estate market is. As a result, when you take out a mortgage on a piece of property, you will be able to pay back less money overall than you would have if interest rates were higher. Also, low-interest rates make it simpler for homebuyers to be approved for mortgages on properties and can enable them to stretch their budgets further.
Increased Home Values
The fact that property values have been consistently rising, especially over the past few years, makes now a perfect opportunity to invest in real estate. This indicates that there is a good possibility you will experience an increase in the value of a home if you purchase it now and hang onto it for a while. In addition to making it simpler for you to sell your house in the future, this may also enable you to get additional rental or investment property income.
Tax Deductions & Potential benefits
There are many tax advantages and deductions associated with real estate investing, which can assist you as an investor lower your overall financial load. If you own rental properties, for instance, you might be eligible to deduct some costs from your taxes, such as maintenance and repair fees or insurance premiums. Furthermore, there are specific tax credits offered for making energy-efficient upgrades to rental homes, which can further lower your overall tax obligation as an investor.
Real estate investing has historically been a great method to build wealth over time, but right now might be the finest time ever to enter this lucrative sector. Now might be the ideal time to build long-term wealth through real estate investments, with low-interest rates making mortgages more affordable than ever before, rising home values offering potential future appreciation opportunities, and numerous tax benefits available for investors who own rental properties. Call us today to start your journey to Real Estate Investing or homeownership! 702 602-8001