Do You Know What's Going On With The Housing Market?
Posted by Alex Rivlin on Monday, November 30, 2020 at 8:49 AM
By Alex Rivlin / November 30, 2020
Comment
Are you wondering what the heck is happening with the housing market? In this video, we're going to talk about what economists predicted for the housing market and examine what actually happened. We'll also examine things like FICO scores, debt, and inventory to understand exactly what's going on with the current housing market across the country and here in Henderson, NV.
Examining The Current Housing Market
Economists predicted a V-shaped recovery for the housing market—and that's exactly what happened. Average FICO scores continue to increase. Additionally, people used their stimulus money to pay down debt, save, and spend a little extra. Forbearances are way down. Inventory is extremely low and houses are much more affordable than you think. We'll examine each of these areas to get a better idea of what the market is doing.
V-Shaped Recovery
When COVID-19 first began, economists predicted a V-shaped recovery—and that's precisely what we've gotten. If you look at the chart below, you'll see that we're even in a slightly better V than predicted.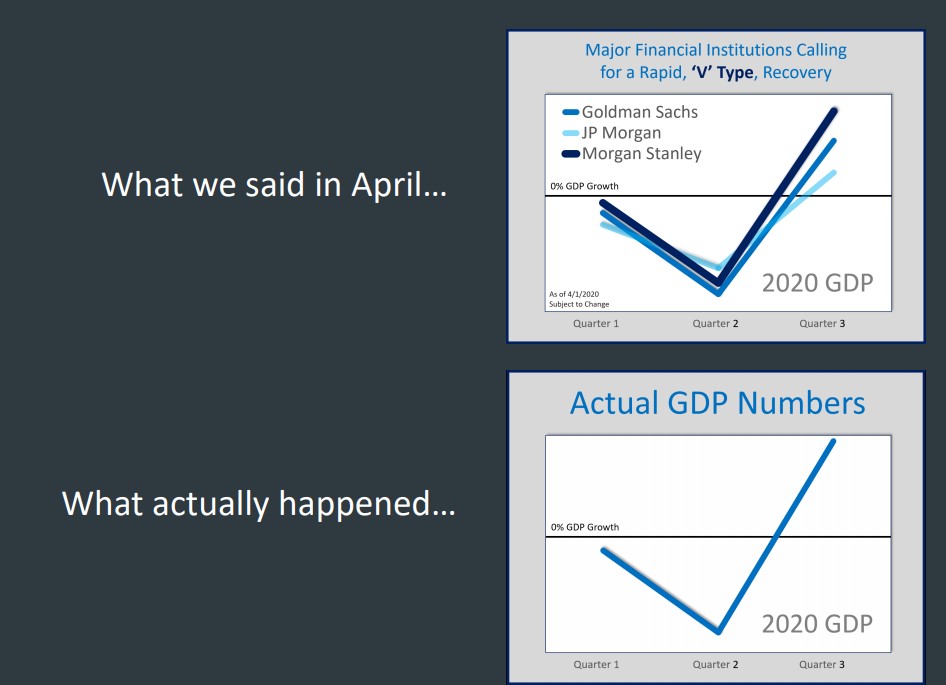 We know that there's a second wave of coronavirus going on right now, and we don't know exactly what that's going to bring. Despite this fact, between all of the COVID fatigue and the bullishness around the markets—including the stock market, which dropped drastically—we expect the economy to continue trucking forward.
FICO Scores & Debt Reduction
Average FICO scores have also increased. Believe it or not, people being buckled down in their homes has resulted in some paying off debt and lowering their expenses. As a result of being at home, they're also not spending as much money. These factors combined have caused FICO scores to increase from an average of 706 in April to an average of 711 today—a whole five points higher. That's fantastic overall for the housing market and credit in general.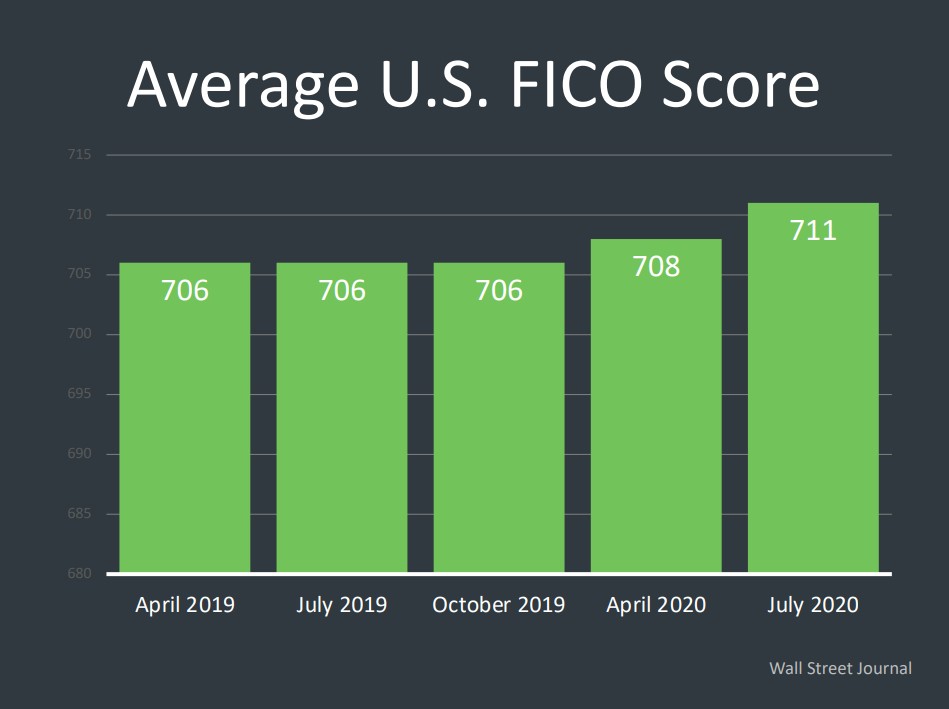 35% of the people that received stimulus money actually paid down debt. 36% put the money in savings, and 29% increased their spending. This not only contributed back to the GDP overall, but it also did a great thing for people and their families. Saving money or paying down debt lightens financial burdens, which is always a great thing.
Fewer Forbearances
I also mentioned that forbearances are lower. Of the 5.76 million families that were granted a forbearance, about 2.4 million extended the forbearance. 2.3 million, on the other hand, went ahead and started paying again while they were still in good order. 500,000, believe it or not, paid their mortgage off completely.
Additionally, 481,000 are actively negotiating with the bank as to how to resolve the forbearance issue. These people are still in flux. 80,000 went delinquent and will either get foreclosed on or have to short sell their home. Alternatively, they can list their house for sale and pocket any of the equity left after paying off their actual mortgage, as well as any of the money accrued during the forbearance period.
Housing Inventory & Prices
Inventory is dramatically low and people wonder why. There are a few different reasons for this. For one, listings are not happening as much due to uncertainty as prices rise and mortgage rates are at a historic low. We are hitting record lows regularly, fluctuating right around the high two's and low three's—which is fantastic.
Another reason for the limited inventory is that housing is affordable. You might be thinking housing prices are out of hand, but they're not. The housing index talks about your ability to pay in income levels versus your payment level—not necessarily the overall value of the house. You can see in the chart below that the housing affordable index is at one of its highest points other than after the crash.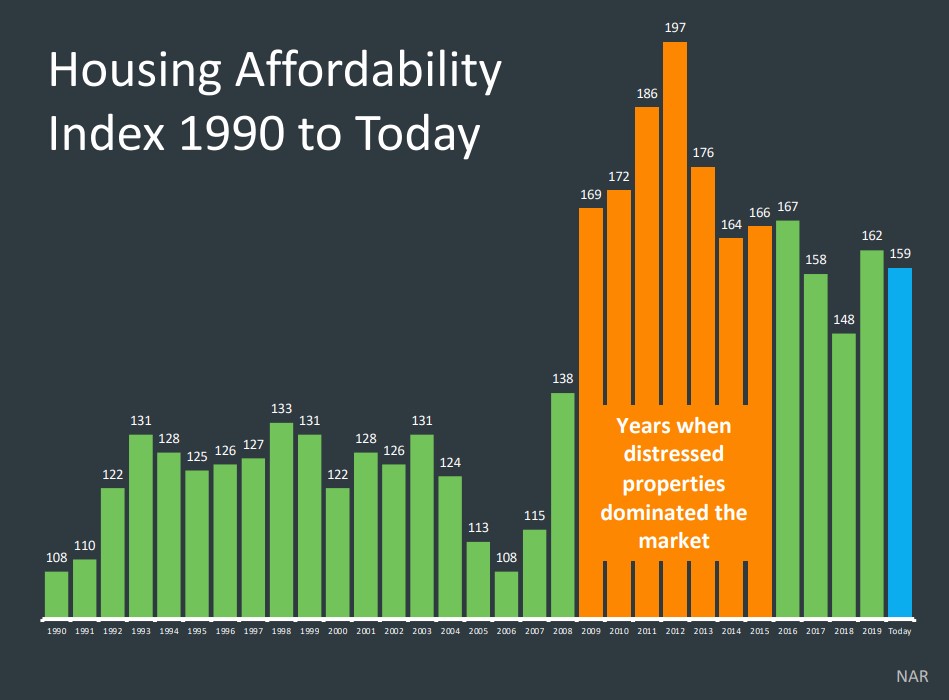 If you look through this entire chart back 30 years, this is the second-best affordability market in the last 30 years. Why is that? With extremely low interest rates, your dollars go a lot further. So whether you were looking at a $300,000 house or a $400,000 house, that payment arguably could be the same with current rates. Since the rate 1-1.5 years ago was 4.5-5%, today's rates of 2.75- 3% make housing very affordable.
The Housing Market In Henderson, Nevada
So what is the housing market doing here in Henderson and the Las Vegas area? We've increased in regards to the number of units sold from October of 2020 versus October of 2019. We're up 11.2%, and this double-digit increase in properties sold in the entire area is phenomenal—especially since we usually see a slow down at this time of year.
We're still seeing this ramp-up due to a couple of different things. One is pent up demand from the slowdown and market contraction we saw in April and May. Another factor is that people having to stay inside their houses for so long made them realize that they want more out of a home. This means they're willing to sell theirs to buy another one—or even get out of their apartment and become a first-time homeowner. In this way, the market is extremely hot.
We're also experiencing an increase in median price, which has gone up about 10.8% in the overall Las Vegas region. When it comes to Henderson specifically, they're following the same trend. The average price of a home sold in October was $493,000 in the Henderson market.
The Right Time To Buy And Sell
If you were thinking about selling and moving out of state or staying here and buying something, October was a great time to do so. For people that think the market's going to continue going up and want to time a sale or purchase, you should take advantage of the equity you have right now as well as low interest rate. Interest rates are predicted to rise throughout 2021, 2022, and 2023. If you wait, you'll be in a less affordable situation than you would if you made the move sooner than later.
It's also important to consider availability. There are currently less than two months of inventory. In fact, last week I did my numbers and it was less than six weeks of inventory on the market. Listings are not coming on as fast. As we said before, some people cited the reason they're not listing as uncertainty. Additionally, most people don't want to show their house during the holidays. If you were thinking about listing your house, I'll assure you: if you price it right, which is the most effective strategy right now, you'll get more viewers, potential multiple offers, and drive the price to higher levels than overpricing it and negotiating down.
The best houses are selling very, very fast—I'm talking a solid offer or possibly multiple offers on the first weekend of the listing. We could set it up so that you list your home, we get it under contract, and the only thing you have to deal with through the entire holiday period is opening your door for an inspector and appraiser. Closings now are either late December or early January, and you get to control your timeline by accepting or countering on an offer. This makes it very easy to work around all of your holiday schedule and plans.
Take Advantage Of The Market
Right now, 70.3% of all listings are accepting an offer in under 30 days. That's a huge increase, because last year at this same time, it was only 52%. I'm seeing a dramatic amount of houses get an offer—when they're priced right—within the first two or three days. The market is hot and great things are happening.
We do have some challenges with our economy and unemployment. One thing that you always have to keep in mind is we have 2.3 million people here in the greater Las Vegas area. Our brother right next door, California, has about 40 million people. It takes a very small percentage of those people to want to move here to prop our market up.
With potential taxes going up to 16% in California and as the ability to work remotely increases, there's plenty of opportunities for this market to continue to flourish as it has over the past several months. I hope this gives you a lot more information about the national and local housing market. If you have any questions, make sure you reach out to me and I'll be happy to help!